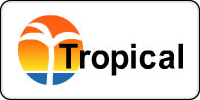 TROPICAL is an engineering and manufacturing company in Brazil of ice cream equipment. We are in the ice-cream Market for more than 15 years focusing on technologie, inovation and quality, making solid and durable equipments. Beside a well trained and skilled staff the company also developed partnership nationally and internationally. All of its equipments are projected in 3D software that allow modeling and simulations aiming to eficiency increase and reduction of use of water, energy, cleaning and maintenance products
TROPICAL develops since single equipments to complete solutions. The equipment line includes:

Pasteurizing, mixing and homogenizing plants, using Batch or HSTS process.
Continuous ice cream freezers.
Ice cream filling lines, for cups, cones and bulk.
Automatic stick ice cream machine.
Semi-automatic stick machine.
Automatic extrusion line and hardening tunnel.
Fruit Feeder.
Ripple Pump.