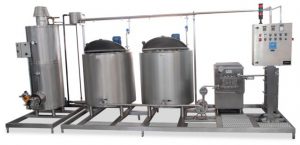 PASTEURISATION LINES – TROPIMIX
Tropimix is a continuous mix processing plants for mixing, pasteurisation, homogenization and cooling of
the ice cream mix.
Features:
• Gas heating; optionally, steam or electric heating;
• Pasteurisation in batches or HTST (High emperature Short Time);
• Homogenizer with three pistons or tank with emulsifiers;
• Two-stage, plate type heat exchanger for cooling; optionally, with heat recovery system;
• Electric panel for motor control and start;
• Automatic water filling system;
• Automatic control of the hot water circulation;
• Lighted indication of the production stages;
• Electronic indication and control of the pasteurization temperature;
• Temperature sensor with output for external control;
• It is made from stainless steel;
• Mounted on a stainless steel base.
Capacities: 300, 600, 1200, 2000, 3000, 5000 liters hour of ice cream mix.